What Kind of Care is Provided by a Skilled Nursing Facility?
We have all heard the words "skilled nursing facility," but do you really know the difference between skilled nursing, assisted living, and the types of care provided? Skilled nursing facilities (also referred to in the industry as SNFs) offer medical care that is needed to patients and residents and found in most communities throughout the United States.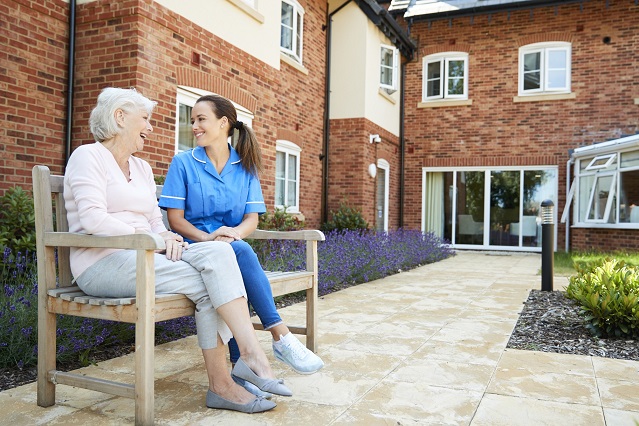 Skilled Nursing Facility Definition
According to The Free Dictionary by Farlex, a skilled nursing facility is "a type of nursing home that is recognized by both the Medicaid and Medicare systems as meeting long term health care needs for individuals that have the potential to function independently after a limited period of care."
What is Skilled Nursing Care
Skilled nursing care is provided in a facility that offers around the clock care. Skilled nurses are trained professionals. Based on the varying states of health your loved one may be in, determined with a health assessment, consistent care may be needed for their well-being.
There are many reasons skilled nursing care may be required, including the following:
Monitoring and administering oral and IV medications

Attending to a post-op wound

Healthy meals for balanced nutrition

Spiritual and social support services

Physical therapy and exercise

Bathing and hygiene

Laundry and cleaning services
Skilled Nursing Facilities for Our Elders
Providing care for our loved ones is nothing short of exceptional. Even when we think we can do everything, and we have, there may come a time when a skilled nursing facility is the next right essential step. Helping a person recover from a fall, illness, or any other accident can be laborious, especially for a family member who is not trained in this type of caretaking. A skilled nursing facility may be the answer when it comes to helping a loved one rehabilitate and restore their healthy lifestyle.
Here are five things to keep in mind when searching for the perfect facility:
The staff working at the facility makes a big difference. When you begin visiting facilities, you will start to pick up on how the team communicates with you, as well as other residents. This is the time to have any questions answered to help you choose the right facility. Be sure to write all your questions and concerns down before your visit. Having all your questions answered before moving your parent or loved one helps alleviate most fears or concerns.

The facility itself must be clean and inviting. There should be no foul odors, and be sure to check around for piles of dust and other elements of concern.

The location of the facility is also significant. How far can your family drive to visit your loved one regularly? It may make sense to find a skilled nursing facility in an easily accessible location to anybody who will be consistently visiting your loved one, which helps to negate taking on the whole responsibility yourself.

Licensing should be evaluated before your initial visits.

Do not be afraid to check for violations and complaints that have been posted as public records. Not all known issues will make or break your final decision, but it is good practice to know what they are. Some violations range from dust above a door to the abuse of a resident.
Long Term Care Facilities
For those providing senior care to loved ones, the time may come when it gets to be too much. Having a plan for the move to a long-term care facility before it is needed is essential. Long term care provides the safety and medical needs that are required around the clock. Caregivers can be the primary patient advocate when this time comes.
If there are questions and concerns regarding costs and Medicaid or Medicare assistance, a search here on CareWindow looking for nursing homes will bring up the desired listings. We can help you weed through facilities that can help you with the care your loved one needs.
Choosing the skilled nursing facility that meets all the requirements that you need for your loved one may take some time. Undoubtedly, you and your loved one must be comfortable with the final decision that is made.