Palliative Care vs. Hospice Care: What's the Difference?
The overlap between these two terms can be confusing to someone not in the industry. In simplest terms, a patient can pursue a cure while receiving palliative care, while hospice patients forego further treatment. Both approaches emphasize person-centered care and easing uncomfortable or distressing symptoms. Hospice incorporates palliation of symptoms. Many misconceptions about disease management approaches cause patients to become uneasy when healthcare professionals broach either topic. Consequently, the healthcare professional may need to make several attempts to begin the discussion.
"Hospice care is appropriate any time after a doctor has estimated that a patient has six months or less left to live, and both doctor and patient have decided to move from active curative treatment to a regimen more focussed on quality of life."
Palliative care involves treating symptoms, such as pain or nausea, without necessarily addressing the underlying cause of disease. Simply put, it is symptom management.
"You may start palliative care at any stage of your illness, even as soon as you receive a diagnosis and begin treatment. You don't have to wait until your disease has reached an advanced stage or when you're in the final months of life. In fact, the earlier you start palliative care, the better."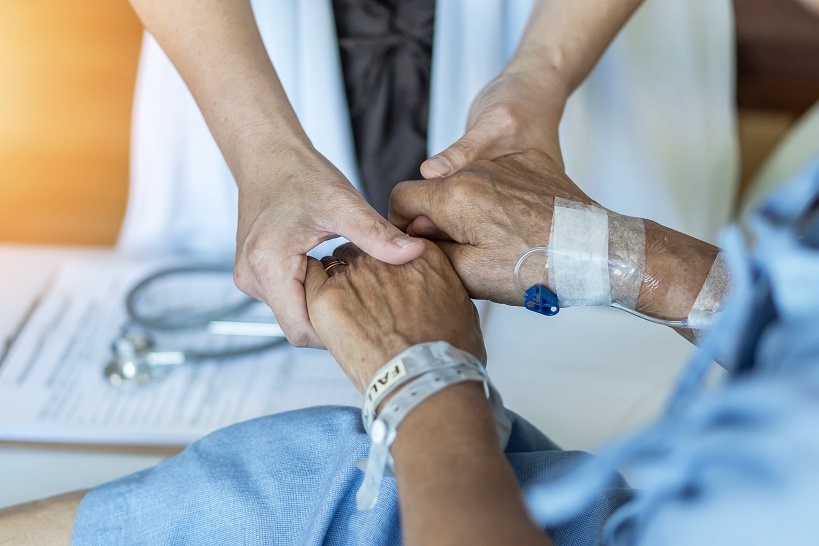 Five Stages of Hospice Care
When the patient, doctor, and family have agreed upon accepting hospice care services, the doctor will write an order for admittance to hospice. A nurse will visit the patient and screen for criteria to determine appropriate hospice services. The hospice team will evaluate individual needs, wishes, and expectations of the patient and family.
Stage 1

: The patient, family, and healthcare professionals work together to create a plan for end of life care that will prioritize the quality of life for the remainder of the patient's life.

Stage 2

: Hospice interdisciplinary teams, including a medical social worker and a chaplain, provide spiritual and emotional care for the patient and family.

Stage 3

: Home health aides, homemakers, certified nursing assistants, nurses, and volunteers assist patients with Activities of Daily Living (ADLs) such as bathing, shopping, meal prep, feeding, and light housekeeping. Nurse care managers collaborate with the hospice physician on symptom management, wound care, evaluation of needs, durable medical equipment (DME), and occasional consultation with other disciplines such as physical or occupational therapy.

Stage 4

: Arranging for inpatient care if needed or wanted by the patient. Inpatient care can take place in a nursing home, hospice facility, or a hospital. Not all patients want or need inpatient care, so some will remain at home.

Stage 5

: Bereavement support for the family once the patient has passed away, usually for a year.
Palliative care has five guiding principles:
To relieve pain and other distressing symptoms associated with the disease or its treatment

To recognize death and dying as a natural process

To neither prevent nor promote death--each person's timeline is different

To inform the person's care through spiritual and psychological principles

To support the patient so they may continue to live their best life
"One of the strengths of palliative care is (the) recognition of the human side of illness. In a 2011 survey of palliative care patients, they mentioned these particular needs: "being recognized as a person," "having a choice and being in control," "being connected to family and the world outside," "being spiritually connected," and "physical comfort."
Hospice and Medicare
It is essential to note there can be financial liability associated with using the Medicare Hospice benefit. If you have Medicare Part A (Hospital Insurance) and meet all of these conditions, you can get hospice care:
Your hospice doctor and your regular doctor (if you have one) certify that you're terminally ill (with a life expectancy of 6 months or less).

You accept palliative care (for comfort) instead of care to cure your illness.

You sign a statement choosing hospice care instead of other Medicare-covered benefits to treat your terminal illness and related conditions.