Nursing Homes: Outdoor Common Areas
Getting outside is essential for everyone, including adults living in nursing homes. Not only does it improve your mood, but it also may improve your health: a 2008 study in the Journal of Aging found that adults over the age of 70 who went outside stayed healthier and aged better than adults who stayed inside more often.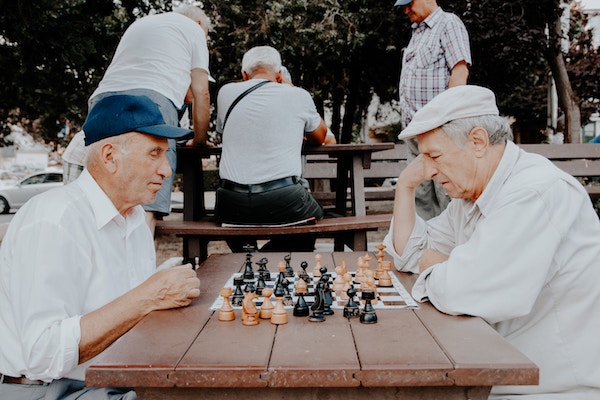 That's why it's essential to look for a nursing home that provides common outdoor areas for residents. These areas can include screened and covered porches, patios, and landscaped gardens and paths, which typically are available to residents for leisure time and planned group activities.
Nursing Home Outdoor Common Areas Uses
There are many uses for the outdoor common areas at a nursing home or assisted living facility. When the weather is nice, it allows the residents to get fresh air and relax, thus reducing stress and anxiety.
Here are a few ways that residents may enjoy outdoor common areas:
Picnics: There is nothing more relaxing than a picnic on a beautiful day. There may even be scheduled events that include a BBQ and games for the residents and families. Most assisted living communities will try to plan a couple of BBQs when the weather permits.

Group Art Activities: Whether it is building and painting bird feeders or just drawing and painting. Art projects that are done in a common area outdoors lift the spirits of everyone involved.

Family Get-Togethers: Having family members visit is always an exciting activity. But, there are times when there is a more significant number of members that want to visit at the same time. Instead of being crammed into one room indoors, using the shared outdoor area is much more pleasant. Most assisted living communities and nursing homes will have more than one outdoor space to be used.

Benches and Nature: Getting outside does not mean that the resident has to be with a bunch of other humans. Some just enjoy going out and sitting on a bench. Sitting on a chair and watching the birds or reading is very relaxing and helps to reduce stress and anxiety. The fresh air helps to promote better sleep and adds a little lift in the mood.

Card Games: Many residents love to play cards, and getting a group of card players together is fun. Add the game to the outdoor setting with nature, and a few good card games will take place. Laughter and cards are wonderful for the soul.

Book Club: Many enjoy the pleasure of reading a good book. What if avid readers got together and started a book club. Joining or starting a book club creates a common interest, and the residents look forward to discussing the chapters read while apart from each other.

One-on-One: For those who prefer privacy and want to spend some one-on-one time with a special someone, the outdoors is a great place. Sitting on a bench and just spending some valuable time with your loved one can boost moods.
Common areas have many uses to be enjoyed by both residents and employees. Taking time outside, even just for a few moments, can help to relax and reduce stress. Going out offers residents the chance to see something different and experience the sounds of nature.