Nursing Homes Common Areas
Nursing homes and other long-term care facilities offer a variety of living spaces for residents. Each resident has a bedroom, which may be a private room or a shared, semi-private room. Beyond that, the facility should offer shared common areas that can be used by all residents.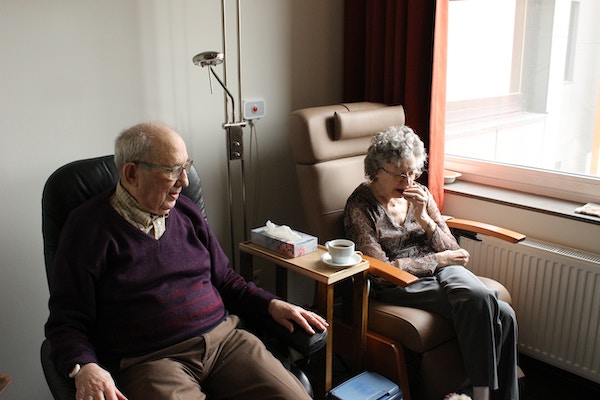 Nursing Home Common Areas Have Many Uses
Common areas typically include a dining room, a living room or sitting room, an activities room, a library, a chapel, and more. Some of these rooms may be used for organized group activities, such as games and crafts, while others may be spaces where residents can socialize with each other or with visiting family and friends.
Many nursing homes and long-term care facilities have outdoor common areas that have comfortable seating, benches, tables, and picnic tables. Many times there will be a grill, and residents and guests can enjoy picnics when the weather is beautiful. Nursing home outdoor common areas can be enjoyed by residents who want to be outside enjoying nature. It is not uncommon for residents to feed the birds and enjoy sitting watching them.
Nursing homes and long-term care facilities will typically have a full-time activity director on staff. The activities director and staff will use many of the common areas to hold events.
Some of the events held in common areas are:
Games- Bingo, Cards, Monopoly, and more.

Birthday Parties

Holiday Gatherings

Crafts

Picnics

Barbeques

Crafts

Musical Events

Movies

Book Clubs

Exercise Classes
Nursing homes typically have common areas on each floor and wing. Those residents who do not want to go far are still able to have the advantage of visiting a common area.
Many common areas serve as lounges and have comfortable seating and a television. Frequently, there are also reading materials in some of the common areas like the daily newspaper. Many residents enjoy reading the daily paper and discussing current events with other residents and visitors.
Common areas are designed to look and feel inviting. Usually, the main common area of the facility is located on the main floor near the entrance. This common area is where many of the visitors to the facility can meet with residents.
If a resident has a semi-private room, the common areas offer a place to visit with family and friends a little more privately. Sometimes having visitors with the roommate in the room can make things a little awkward.
Common areas allow for the residents to enjoy a change of scenery. Sometimes, just the change of scenery will help to boost the mood. Some are just not happy being in the same room for hours on end, and the common area allows for this change without having to go off-site.