How to Handle a Combative Dementia Patient with Patience
When caring for a loved one or a patient with dementia, one of the hardest duties to encounter is when they become combative. Of course, we understand this is just dementia and not really who they are, and we want to be as compassionate and caring as possible. Understanding dementia and symptoms help when dealing with different complexities.
Dementia and Anger at Loved Ones
With dementia, there are specific behaviors you may encounter, including throwing objects, kicking, hitting, raising of the voice, and pushing. As anger escalates, there may even be bouts of screaming and physically trying to attack you. Aggression and violence with dementia commonly surface in the middle stages of this disease. Other behaviors of dementia may include hoarding, obsessive-compulsive behaviors, and wandering.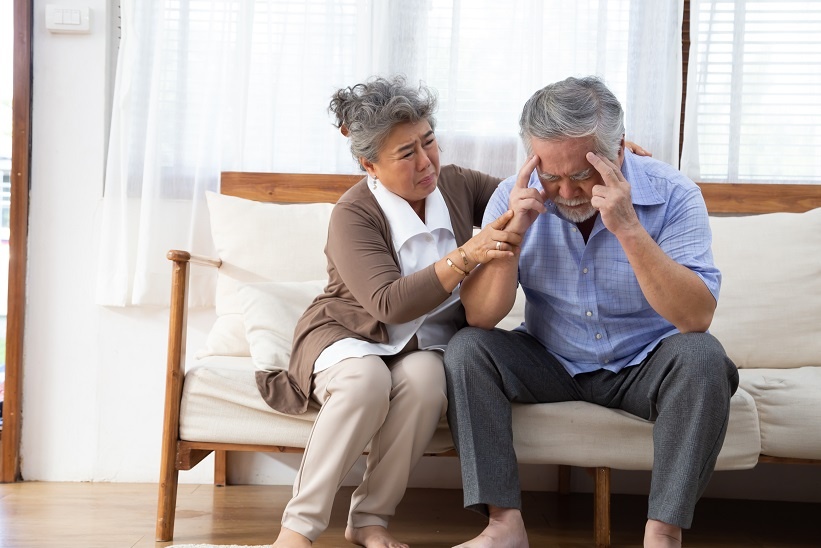 What are some Drugs to Calm Dementia Patients?
There is a long list of remedies used when treating dementia. Of course, any treated individual needs to be monitored closely by their medical team. In most cases, antipsychotics are prescribed and tested to see how they work with your loved one. It may take a bit to get the right fit and dosage when it comes to drugs to calm a patient with dementia. A long list of drugs may be prescribed, but there are ways to help ease your loved one without drugs. Working closely with medical professionals will help you and your loved one be more comfortable and relaxed.
What is Sundowning Behavior?
Sundowning is a behavior that takes place in the late afternoon and can last into the night. A variety of responses can be present with sundowning, including wandering, anxiety, ignoring instructions, and aggression. Some experts believe the fading light can cause shadows that will make the dementia patient aggravated.
Some methods can help lessen the effects of sundowning, like routine and keeping the noise and activity level down as it gets later in the day.
Care Homes for Aggressive Dementia Patients (Memory Care Units)
If your loved one prefers living in a community environment or may need more care than can be provided at home, residential facilities are available. It is essential to recognize that different types of facilities that offer different levels of care for dementia patients.
Memory care units, or Alzheimer's care units, are facilities that provide specialized care for individuals with dementia. These are the safest facilities for those who have dementia and tend to wander because they have locked units or units that are more secure with electronics. Memory care facility staff understand that residents have the chance to wander off and not remember where they are or how to get back to safety. Safety and compassion are essential when it comes to finding the best facility to care for your loved one.
Finding the Right Nursing Home
Choosing the right memory care nursing home for your loved ones is a big responsibility. If your loved one is hesitant, be sure to read our guide: How to Convince Someone to Go into a Nursing Home. Handling a combative dementia patient has its drawbacks. The more informed and compassionate you are about dementia and its symptoms, the better you will be able to face its challenges.