How to Convince Someone to Go into a Nursing Home Gently
There is never a time when someone wants to go live in a nursing home or to place a family member or loved one in this type of facility. An estimated one in four people over the age of 65 will spend time in a nursing facility, according to Linda Breytspraak, Center on Aging Studies, University of Missouri-Kansas City.
It is no surprise that most older adults want to stay in their own homes even though they need the care that the various types of long-term care facilities offer. They desire nothing more than to remain in a familiar setting and close to their families and loved ones.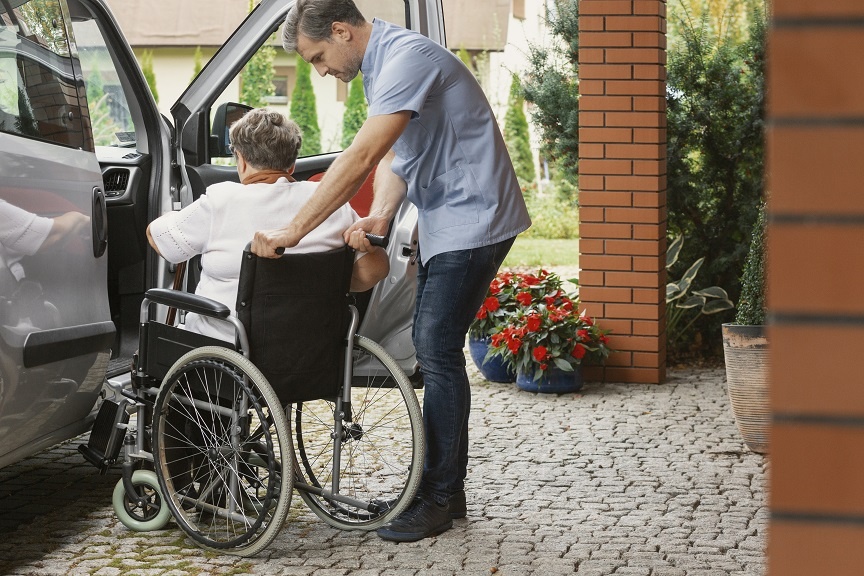 How to Convince Someone to go into a Nursing Home
Even family members can be highly opposed to the idea of a nursing home even when extra care is warranted and needed. And, there are a variety of different reasons for this. The first is that the older adult was promised by a spouse or family member that they would never enter a nursing home. The guilt over putting a parent in a nursing home can be agonizing.
Criteria for Nursing Home Placement
When deciding to place a loved one in a nursing home, consider discussing a few points.
Nursing home placement is the best choice when necessary for the safety, being around others for social interaction, and general overall well-being of the person.

The primary caregiver is exhausted, providing care full-time, and their health is being affected. Providing elderly care around the clock can cause burnout, depression, and anxiety.

Nursing home care is needed even if promises were made years earlier by loved ones. No one can foresee what the future holds and what health issues may arise.
Steps to Getting Someone in a Nursing Home
With nursing home placement, there is no one right answer. Some will not like the idea but will make a move with little resistance. Then there is also the problem of putting a parent in a nursing home against their will. We will look at different scenarios and provide a few ideas.
When a parent refuses to go to a nursing home, guilt and stress can be overwhelming. No child wants to watch their parent's health decline, and the aging process takes effect. But, for the safety and well-being of the parent, a nursing home providing skilled nursing care may be warranted.
The best way to start is by having discussions with your parents. It will take time and probably multiple conversations. Explaining in a gentle way that they do not maintain the home or eating correctly, and you are very concerned. If there are health problems, including hearing or vision loss, dementia, falling, or other chronic conditions, you can talk about your concerns about needing extra daily help. Discuss the benefits of moving them to a home where there are no concerns about grocery shopping, cleaning, laundry, or other maintenance.
There is no easy answer when it comes to what to do when an elderly parent refuses to move. We are all individuals and have our preferences. Please discuss with your parents what they want to look for in a nursing home and include them in on visits to view the facilities.
As the caregiver, you will have questions on how to get into a nursing home on Medicare, qualifications, amenities, and other types of services offered.
How to Move a Parent with Dementia to Assisted Living or Nursing Home
Watching the effects of dementia on a parent can be stressful, and the disease may progress faster than expected. The time may come quicker than anticipated to make the transition to assisted living or a nursing home.
Here are a few helpful tips for moving a parent with dementia:
Understand that the transition may be challenging. While the care is given to your loved one, it is essential to understand that the transition to the facility from home can be daunting. It will take time to settle in and feel at home. The effects of moving a person with dementia need to be kept in mind to keep things as stress-free as possible.

Do not include your loved one in the packing or planning of the move. Involving your senior in all of the little details can cause stress and overwhelming feelings.

What is your loved one's best time of the day or afternoon? You will want to plan the move during this time to make the transition as easy as possible.

There is no need to take a lot of your loved one's belongings. There will not be a need for a lot of possessions, and many families figure this out after putting the work into moving many items. Too many items may also make your senior frustrated and confused. Choose only those things that your loved one is very fond of.

Reach out and communicate with managers and counselors to help with the transition. Some counselors and managers are available to communicate and work with you and your loved one. It is important to remember that you are also going through a transition.
How to Legally Put Someone in a Nursing Home
Caregivers often ask how to put someone in a nursing home legally, and can it be done? The answer is a medical power of attorney may be used under certain conditions to admit a person into a nursing home or long-term facility. A medical power of attorneys must be appointed when the person or loved one is competent. Although it is not required that a relative be a power of attorney in most cases, it is. Therefore, it is so important to have these types of discussions long before the time is needed to make the decision. Being a power of attorney for nursing home admission allows you to help your loved one in the time of need. You are now the advocate for the person and able to help keep them safe.
Convincing someone it is time to go into a nursing home can be a challenge and take some time, but all individuals must receive the care and socialization they require. Using a loving and gentle manner can help to make the transition easier for everyone involved.