When Is It Time to Move Mom or Dad to a Memory Care Facility?
The decision to transition a loved one into a memory care facility can be challenging. The slow progression of Alzheimer's disease, dementia, and other conditions that affect a person's memory can make it very challenging to know exactly when is the right time for specialized care.

Memory care problems are common. The CDC reports that one in nine adults over age 45 experience symptoms of confusion or memory loss. While not every one of these adults requires support from a memory care facility, some will. Deciding if your loved one needs that support is crucial to getting them the care they need to lead a fulfilling life.

Researching memory care facilities before an emergency arises can help you feel prepared if the time comes for a change. But it's never too late to learn more about dementia and Alzheimer's care options available near your loved one. This article will help you determined when memory care is necessary or when to move from assisted living to memory care.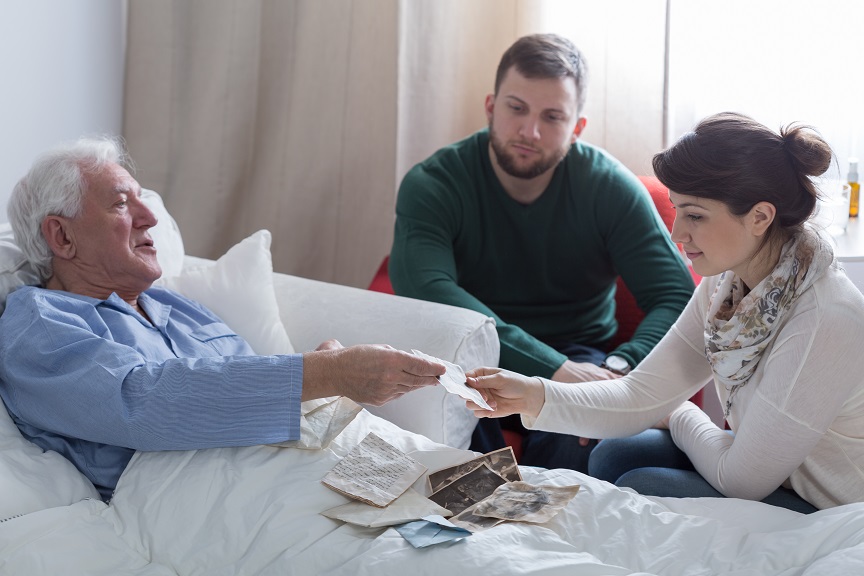 What Is Memory Care?
Memory care facilities are designed for patients with Alzheimer's disease or those who require dementia care. Patients with degenerative memory diseases typically require more supervision and higher levels of care expertise. That's why these facilities are specifically staffed with professionals and personnel experienced in helping patients deal with memory loss and can even work to slow the progress of Alzheimer's disease.
Services provided within memory care facilities often include:
24-hour supervision for health and security

Assistance for personal hygiene, housekeeping, and laundry

Incorporation of health and exercise routines

Social gatherings and fun activities that help slow memory degeneration

Meals, transportation, and access to medical care



Units that specialize in memory care go above and beyond to help your loved one lead their best life while employing methods to help slow the disease's progress.
When Is Memory Care Appropriate?
Alzheimer's disease and dementia are degenerative diseases that take years to develop fully. This makes it challenging to know exactly when your loved one may need extra support from a memory care unit.

The first sign that memory care may be needed is an overwhelmed caretaker. If the patient's needs have overburdened you or an at-home nurse, memory care may be required. Additionally, incontinence is a massive task for any caregiver and quickly leads to feelings of being overwhelmed. The specially trained staff at a memory care facility can handle a patient who forgets to use the bathroom or other challenging circumstances.

An unhealthy living environment is another major indicator. Pay attention to the upkeep of your loved one's home. Is trash piling up? Is the fridge empty or filled with spoiled food? Are regular home maintenance tasks getting skipped? These are signs that your loved one may need added support from a memory care unit before their home environment becomes dangerous.

If your loved one suffers from confusion or disorientation, it is probably time for a move — your loved one's safety matters. A small accident can lead to major complications. If your loved one forgets how to drive or operate machinery, they could become seriously injured. Find a facility that can help before that happens.

Memory care units provide frequent safety checks for patients. They are staffed with professionals who understand the needs of Alzheimer's and dementia patients. These professionals assist with basic tasks to establish a healthy routine in the lives of residents.

Skilled nursing facilities offer similar services to what you'll find in a memory care unit. However, memory care provides more frequent checks on patients, increased supervision, and a more refined focus on building a routine to support the patient and hopefully slow the progression of the disease.



Memory Care Versus Skilled Nursing Facilities
Memory care should not be confused with a skilled-nursing, nursing home, or assisted living facility. Often, care in a nursing home is more extensive than care in a memory care facility. Not all patients require the highest level of care, especially at the beginning or middle stages of Alzheimer's or other degenerative memory diseases.

Sometimes assisted living facilities feature a memory care wing or Alzheimer's care units. These wards usually include both private and shared spaces and can exist within a larger nursing home context. These can be great options for those looking for assisted living or nursing home care with a specialization in memory care.


Choosing the Best Memory Care for Your Loved One
If your loved one has Alzheimer's, dementia, or is suffering from memory loss, now is a good time to review their options for care.

CareWindow provides you insights into the memory care facilities near you or your loved one. Search our database for memory care units across the United States now. We'll connect you to the resources and reviews needed to help you make an informed decision.