Memory Care Activities for Alzheimer's and Dementia Patients
It is estimated that some form of memory impairment afflicts nearly half of US citizens over the age of 85. According to the CDC, dementia, including Alzheimer's Disease, ranks as the 6th leading cause of death in the United States. Cognitive disorders are one of the most common reasons why we lose our independence as we get older.
Unfortunately, these diseases affect not only the patient; they also affect caregivers, friends, and family members. As these diseases progress, memory care is needed. Knowing the available choices will help to make your loved one's transition more manageable.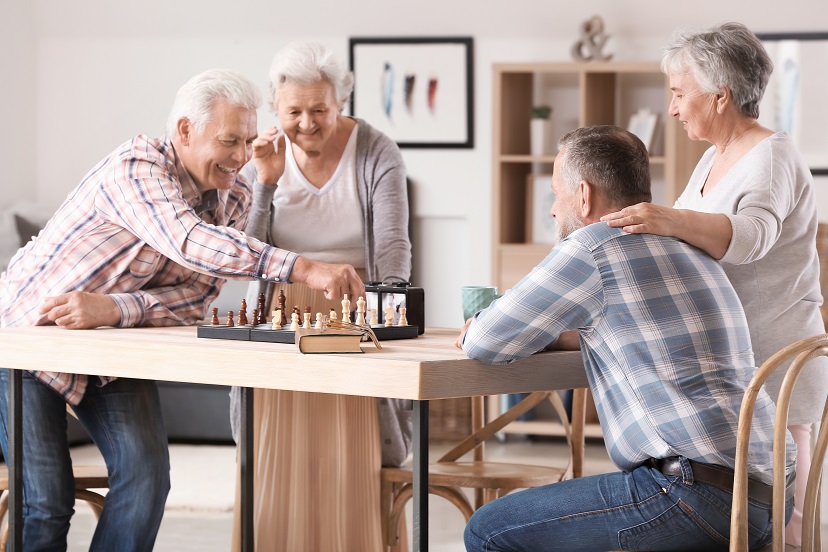 What
is
Memory Care?
Memory care is a type of care, including living arrangements, for those living with Alzheimer's and other forms of dementia. Memory care communities offer care that's specialized for residents, providing a safe living environment.
Assisted living memory care allows the senior population to continue living safe and structured lives. Many nursing homes and assisted living facilities maintain wings or units dedicated to the care of Alzheimer's patients. Memory care facilities may also be stand-alone, meaning that's the only type of patient these facilities accept. Memory care is an expanding segment of the housing market available to seniors. In fact, the available number of units for memory care alone has surged 55% from 2013 to 2018.
Memory Care Near Me
There are numerous memory care facilities located throughout the US. Identifying the memory care facilities that are available in your area can be performed in several ways.
In addition to searching our CareWindow elder care directory, searches may be performed on the internet, including using these terms:
Memory care near me

Memory care facilities that accept Medicaid near me

Nursing homes for Alzheimer's patients

Nursing homes for dementia patients near me
By visiting your local memory care facilities and speaking with an administrator or caregiver, you can get a better feel for what amenities and activities each has to offer.
Memory Care Activities
Your parent or loved one will probably choose to stay engaged and socialize with others. Being diagnosed with dementia does not mean that they can't remain active in a structured environment. Memory care facilities specialize in memory care activities that are stimulating and fun to engage in.
There are many helpful programs available to folks with Alzheimer's and dementia. Activities are planned to be a part of a structured routine, and residents tend to look forward to their activity time. Some activities may include:
Yoga and other exercises

Music

Traditional games

Daily life skills – folding laundry, sorting objects, helping to care for a small pet

Outings

Birdwatching

Gardening

Sensory activities
Meaningful activities for dementia patients help to keep their minds sharp and from becoming bored, withdrawn, and depressed. Whether you are a senior citizen, or you're taking care of someone with dementia, understanding what a memory care facility has to offer is vital.
Moving a Parent to Memory Care
There may come a time when having to move a parent to memory care is essential for their safety and well-being. Although the transition may not be easy, some steps may be taken to help things go more smoothly.
Getting guidance from administrators and social workers is always a wise choice. Not involving the parent in many of the minor details of the move with also help to keep things stress-free. On the day of the move involving a parent who needs memory care assistance, it is best to do it during the identified best time of the day for them, and when he or she is not tired.
Memory care facilities help to keep those with dementia safe and living a life that offers many different activities. Start your search for a memory care facility today.