The Survey Process For Nursing Homes / Skilled Nursing Facilities
Nursing homes undergo surveys annually to ensure compliance with state and federal regulations. There is an exception in which a facility can become a Special Focus Facility (SFF), meaning there is increased scrutiny by state regulators. With two surveys annually, surveyors can show up to a facility at any time. Repeated deficiencies and low rates of compliance put a home in SFF status. Nursing homes are rated federally on Medicare.gov's Nursing Home Compare, and SFFs remain unrated on the website.
State surveyors will visit the facility throughout the year to investigate complaints. Complaints are filed with the state Department of Health and include residents, families, visitors, and sometimes facility staff. Facilities are required to report specific incidents to the state, such as allegations of abuse, neglect, mistreatment, misappropriation or theft, and unknown origin injuries.
Some episodes have a short window to be reported if they are severe. These "reportable" events are investigated by the nursing home administrator or the director of nursing. The results of the investigation get submitted to the Department of Health (DOH) for review.
Surveyors will select resident charts to review, then interview residents, their families, and staff. Any discrepancies or irregularities are thoroughly investigated.
The yearly Survey brings a team of surveyors to the nursing home, usually for 3-5 days of rigorous inspection of all aspects of the facility. Surveyors review complaints and investigations, observe residents and staff during their shifts, and ensure that each department head complies with regulations.
The Survey might result in deficiencies that are graded by "Scope and Severity" (S/S). S/S is a nationally used system by state Survey agencies and the Health Care Financing Administration to rate the frequency and level of harm associated with a deficient practice.
An alphabetical value is assigned to the deficiency using a matrix.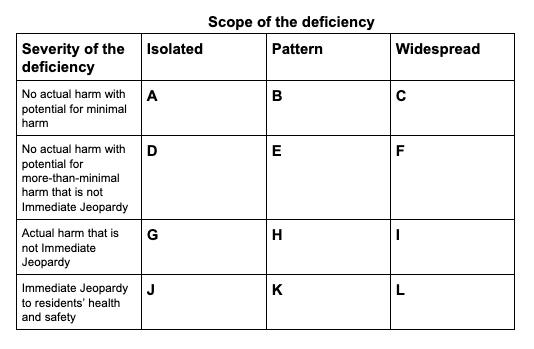 Deficient practices require a plan of correction for each weakness, with state follow-up and monitoring. Every facility is mandated to make public the results of the last Survey available for review by anyone.
One of the primary contributing factors to nursing home neglect stems from understaffing the nursing home facility. Understaffing the nursing home is a dangerous phenomenon for both residents and staff members, and is now considered a crime.
Few states have a mandatory minimum staffing ratio for nursing homes. Combine that with a nationwide shortage of CNAs and nurses, and this is a recipe for disaster. Nursing staff (nurses and CNAs) are often mandated to work overtime. Sometimes it's a full extra shift, which could leave them overwhelmed and powerless to care for themselves and patients adequately.
Ultimately, residents can end up with malnutrition leading to weight loss, dehydration, infection, loss of functional ability, bedsores, and falls.
Federal guidelines provide a framework, but states must bolster that framework to ensure safety, care, and quality of life for residents.
"Each nursing home must provide 24-hour licensed nursing services, which are sufficient to meet the nursing needs of each of its residents.
Each nursing home must use the services of a registered professional nurse for at least eight consecutive hours a day, seven days a week."
States legislate further regulations as needed; some provide mandatory ratios or an RN to be on duty at all times.
Regulations for nursing homes exist to ensure each resident's rights are respected and that they get the care they need in the safest, least restrictive environment possible. In recent years, there has been a turn toward patient-centered care, recognizing the resident's right to self-determination and choice.