The Novel Coronavirus (Updated 4/4/2020)
With so much information available about the novel coronavirus, or COVID-19, it is hard to keep it all straight. What should we know as individuals, as we all have different, fewer, or more risk factors? Below is some of the latest information:
Who gets sickest from the Novel Coronavirus?
In the early stages of the pandemic, the belief was that people with more risk factors are most likely to die from coronavirus, and that remains true. From the start of the outbreak in China, older people and sicker people were less likely to recover than younger, healthy people.
Unfortunately, we are now hearing reports of people as young as 20 are in hospitals, or dying, around the world. With or without symptoms, we are all able to spread the virus if we have become infected. People who become symptomatic may have been shedding the virus for a few days before becoming sick. Research further indicates that the virus may be shed for nearly 40 days after the person recovers.
The way the virus is observed to affect children adds to the mystery and evolution of our knowledge of COVID-19. There is some evidence that children shed the virus in stool, per real-time statistical information about the coronavirus.
4/4/2020 Update:
As of this update, there are 1,133,801 confirmed cases of coronavirus, with 277,607 cases in the US. There have been 7,406 deaths in the US since the coronavirus landed on our shores. These numbers will continue to change, so check out the Worldometer's website for continuously updated information.
Should I be taking NSAIDs?
There is some disagreement in the medical community about the effect of non-steroidal anti-inflammatory drugs (NSAIDs) on the virus. This class of medications includes brand-name drugs like Motrin, Aleve, Toradol, and others; generic names of these drugs are ibuprofen, naproxen, and diclofenac, as well as aspirin. NSAIDs are commonly used for pain and fever. Some patients use aspirin to prevent blood clots. Regular users of these drugs should not stop taking them without first consulting their healthcare provider.
Whether one chooses to use NSAIDs in light of conflicting medical opinion is a personal choice. However, to reduce risk, the UK's National Health Service recommends using acetaminophen (i.e., Tylenol) for pain relief and fever reduction. The caveat here is that people shouldn't take acetaminophen if a doctor has advised against it. There are concerns ibuprofen can aggravate underlying health issues. At this time however, there is no firm evidence of how ibuprofen affects COVID-19 sufferers. However, this writer's education and pharmacological knowledge yield the following observation: NSAIDs are anti-inflammatory drugs. Inflammation is the body's response to pathogens. Reducing that inflammation can rob the body of its defense mechanism.
Additionally, NSAIDs metabolize through the kidneys; extreme infections can result in sepsis, causing the body's organs to fail, including compromised kidneys. Patients with chronic kidney disease, diabetes, high blood pressure, or heart disease are already at risk and NSAIDs greatly increase that risk.
Per the US Food and Drug Administration website: "At this time, FDA is not aware of scientific evidence connecting the use of NSAIDs, like ibuprofen, with worsening COVID-19 symptoms. The agency is investigating this issue further and will communicate publicly when more information is available. However, all prescription NSAID labels warn that "the pharmacological activity of NSAIDs in reducing inflammation, and possibly fever, may diminish the utility of diagnostic signs in detecting infections."
Incidents occurring as a result of using NSAIDs should be reported to FDA's MedWatch program.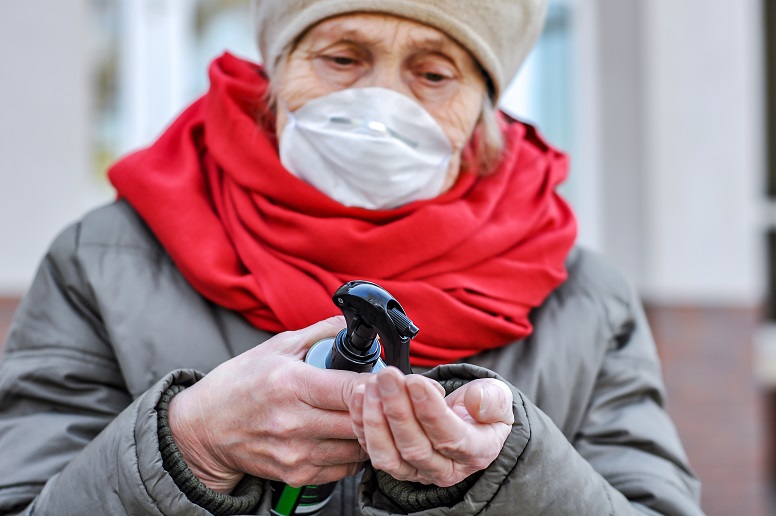 Should I wear a mask?
Another new recommendation from the Centers for Disease Control and Prevention (CDC) is the use of a cloth face covering, such as a mask or scarf. Covering the mouth and nose dramatically reduces the risk of either spreading or catching the coronavirus. Medical providers and first responders are in dire need of Personal Protective Equipment (PPE). So, using alternate methods to shield the nose and mouth helps to reduce the public use of the PPE these professionals need, so they may stay healthy and continue to care for patients. For anyone who can sew, there are many patterns and tutorials available on the internet for homemade cloth masks.
We all must play our part to reduce the spread of the virus. The best way to achieve this is to stay at home, especially when sick. If it is necessary to leave home, maintain 6 feet between oneself and others, wear a mask, wash hands frequently, cover coughs and sneezes with an elbow, and trips into stores or other public places should be completed as quickly as possible.
Depending on where one lives, testing for coronavirus is currently reserved for those deemed high-risk. Consult with your local health department for testing procedures and requirements. If you are feeling unwell, contact your healthcare provider for advice. Do not go to your local Emergency Department, clinic, doctor's office, or urgent care center without first consulting with your regular provider. If you have any questions before calling your PCP, visit the CDC's Situation Summary page for updated information.
Learn more about the CDC's Community Mitigation Guidelines (PDF).
While this disease is spreading rapidly and inciting fear and utterly irrational behavior, we must keep a cool head and allow common sense to guide us.
What to do:
CDC (The Centers for Disease Control and Prevention) gives the following recommendations for people at high risk for a difficult course of illness, should they become infected.
Have supplies on hand including food, medicine, and pet supplies

Take everyday precautions such as wash your hands and keep common areas disinfected

Stay home as much as possible. Avoid crowds, but if you must go out, practice social distancing, and maintain at least 6 feet between and yourself and other people

Pay attention to potential COVID-19 symptoms, including fever, cough, and shortness of breath. If you feel like you are developing symptoms, call your doctor. Experts advise against going to the emergency room or doctor's office.

Stop hoarding medical supplies. First responders and healthcare providers need these supplies so they can care for sick people. If the first responders and medical staff are sick, they won't be able to continue to provide treatment; and the death count could rise exponentially.

Leave some toilet paper for the rest of us. Toilet tissue is 100% ineffective at preventing coronavirus, which is a respiratory disease.

Mental health is a concern due to isolation precautions. Please check in with neighbors who have no immediate family. The Anxiety and Depression Association of America has set up a

resource page on coronavirus anxiety

to offer tips and strategies from mental health professionals.
The CDC's guidance for mitigating the spread of COVID-19 (as well as Flu, SARS, etc.) emphasizes greater individual responsibility:
"Individuals, communities, businesses, and healthcare organizations are all part of a community mitigation strategy… Community mitigation is a set of actions that persons and communities can take to help slow the spread of respiratory virus infections.
Community mitigation is especially important before a vaccine or drug becomes widely available… Selection and implementation of these actions should be guided by the local characteristics of disease transmission, demographics, and public health and healthcare system capacity."
Each state will issue directives and guidelines, per the CDC's published guide: "Implementation of Mitigation Strategies for Communities with Local COVID-19 Transmission."
Click here for information about ensuring you get the necessary medical care during a disaster.
Stay healthy, friends!