Telehealth in Home Healthcare | Senior Medical Health
Telehealth in home senior care has become very prevalent, and for all the positives that this offers, it is a great way to get care in this day in age. Telehealth uses modern technology so that a patient does not have to leave their home to receive medical attention. The hardware technology used to access this level of care is often a computer, tablet, or mobile phone.
By the year 2030, all baby boomers in the U.S. will be older than 65 years of age. What this means is that one in every five residents in the United States will be of retirement age, according to the U.S. Census Bureau's 2017 National Population Projections. Telehealth affords the advantage of seniors and others receiving needed healthcare without having to leave their homes.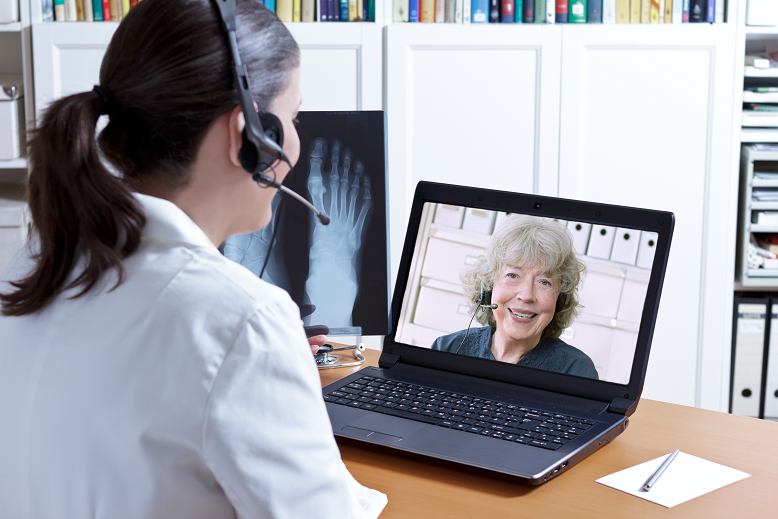 Telehealth Technology Meets Senior Healthcare
Consider that you are a senior with a health issue like diabetes. Telehealth offers the following solutions without having to leave your home.
Order medications and supplies right from your computer or mobile device with the use of the internet

Receive email or calendar alerts when you need appointments such as a foot care exam, flu shot, and many inpatient and outpatient procedures

Use an online patient portal to view upcoming scheduled appointments, refill prescriptions, and to email your doctor or nurses

Watch videos which can help you keep your diabetes under control and learn how to eat healthier or get a little work out in

Update blood sugar readings, heart rate, diet log, and review medication dosing and instructions
How Does Telehealth Improve Patient Care?
Telehealth home healthcare for seniors improves patient care for several reasons; many patients may avoid making a physical appointment with a physician because of the cost, or they feel ill and don't want to infect others. Others may not have a car or a way to get to the doctor's office, so they may not seek needed the medical treatment they need. The use of telehealth reduces resources and negates the need for transportation or transmission of illness.
What Does Telehealth Cost?
Research shows the cost of telehealth healthcare is much lower overall, with an average telecare visit costing ~$79, while the cost to visit a physician's office is about $146. An emergency room can fetch around $1,700, which can significantly less with the use of telehealth to diagnose any concerns initially. That's before the gas money.
Does Medicare Pay for Telehealth Services?
Medicare Part B includes telehealth services. However, patients are billed the same amount as if the services are being rendered in person. Generally, Medicare will pay for 80% of the telehealth service, with the patient being responsible for the remaining 20%.
Telehealth and In Homecare
Telehealth is an excellent option for seniors who can not or do not want to leave their homes. Telehealth allows the patient to be checked on virtually and to make sure everything is going well or as planned.
Telemedicine and Seniors
When we think of electronics and technology, we often think of our younger generations. The great thing is that older generations are now incorporating telemedicine to receive medical care and to reduce the costs of doctor's visits. Telehealth for seniors provides a semblance of healthcare and monitoring services without the touch.
Telehealth Monitoring Services
With telehealth patient monitoring, a patient's vital signs may be observed periodically and allow for irregularities to be spotted that may need assessment. The use of virtual monitoring can prevent re-hospitalizations for patients with chronic conditions and cardiac issues. A technical device may transmit vitals, weight, oxygen levels, blood pressure, and more to a medical office, where it may be evaluated by professionals and serviced. The medical staff is then able to individually work with patients to produce positive actions and discuss negative behaviors. Senior care is improving by leaps and bounds without having to leave the comfort of their own home.