SNF Staff Compliance With Infection Prevention Measures Critical For Covid-19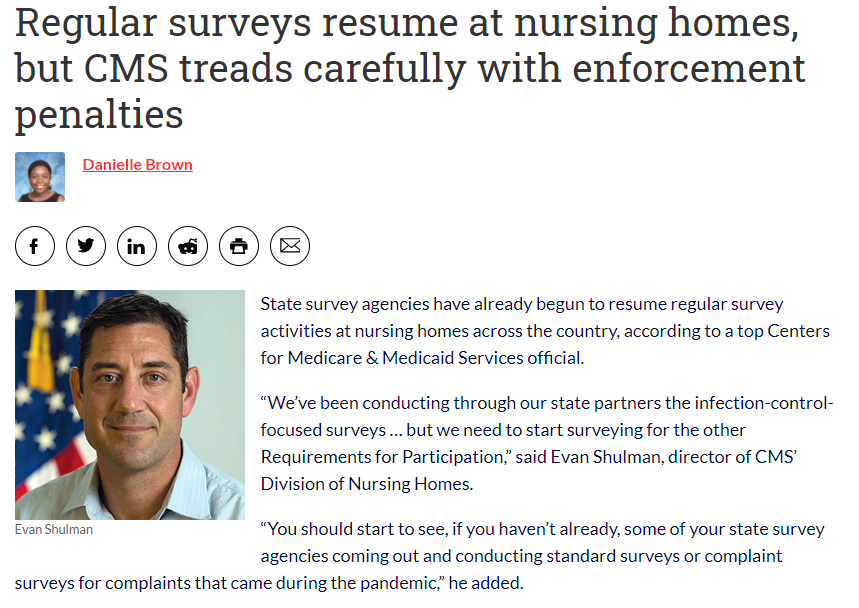 An article called: Regular surveys resume at nursing homes, but CMS treads carefully with enforcement penalties, by Danielle Brown, was published in McKnight's Long Term Care News on November 20, 2020. The article notes that regular state surveys have now resumed at nursing homes across the USA. Evan Shulman, director of the Division of Nursing Homes for CMS, stated: "You should start to see, if you haven't already, some of your state survey agencies coming out and conducting standard surveys or complaint surveys for complaints that came during the pandemic".
Shulman further explained "CMS "will not impose enforcement penalties that go back during the time of the pandemic because, again, that facility would not have had the opportunity to demonstrate compliance." This means that if a skilled nursing facility had a non-compliance issue during the pandemic, then that facility would not have had an opportunity to prove compliance since no surveys would have been conducted during that time.
However, Shulman also explained that investigators have reported instances that some nursing home workers were not in compliance with the core principles of infection control and prevention at all times, saying: "When staff are in resident's rooms, we're actually seeing general compliance with things like donning and doffing PPE. However, if the core principles of infection prevention are not done when staff are not in a resident's room, everything that was done in a resident's room doesn't work. It becomes worthless".
With the resumption of standard CMS compliance survey inspections, nursing homes need to ensure that all staff follow Covid-19 infection control procedures perfectly, as regular surveys will now include enforcement penalties.