SNF Quality Reporting Program Data to be Frozen on the Nursing Home Compare Website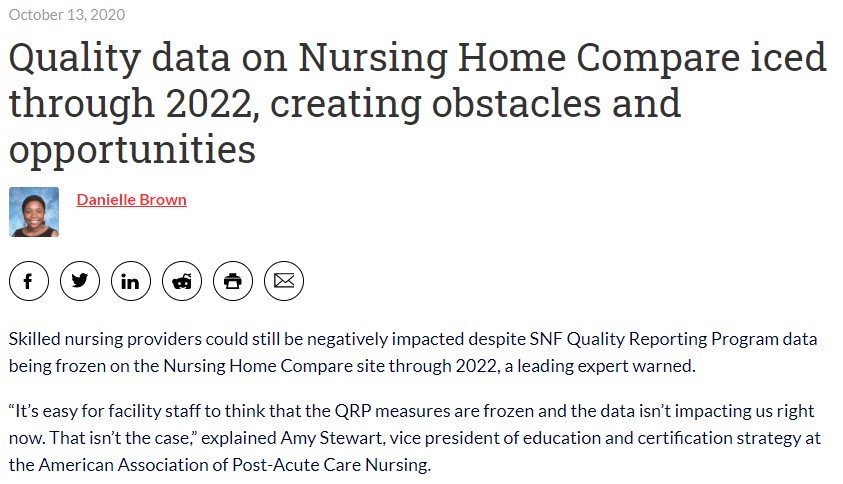 According to this recent article by Danielle Brown on McKnight's Long Term Care News, quality rating data on Medicare's Nursing Home Compare website will be frozen until 2022 due to changes in data submission rules due to the COVID-19 pandemic.
Brown stated:
"Skilled nursing providers could still be negatively impacted despite SNF Quality Reporting Program data being frozen on the Nursing Home Compare site through 2022, a leading expert warned: It's easy for facility staff to think that the QRP measures are frozen and the data isn't impacting us right now. That isn't the case, explained Amy Stewart, vice president of education and certification strategy at the American Association of Post-Acute Care Nursing".
In the second week of October 2020, The Centers for Medicare & Medicaid Services released an updated tip sheet on the SNF (Skilled Nursing Facility) QRP (Quality Reporting Program). CMS tip sheet which made it optional for SNF's to submit QRP data for the fourth quarter (Oct. 1, 2019 – Dec. 31, 2019), while providers were expected to submit data for the first and second quarters of 2020.
This means CMS will hold the data constant following the October 2020 refresh, which will include data from the fourth quarter of 2019. The CMS website won't refresh and will remain frozen through Oct. 2021. Public reporting will then resume again in Jan. 2022 and a normal refresh will occur in April 2022.
"The impact of the freeze is that if your measures are not favorable, they will remain until the refresh in January 2022", said Stewart, according to the McKnight's Long-Term Care News article.
CareWindow Fills The Gap
The CareWindow online portal provides skilled nursing facility rating and review data from several data sources; CMS, Covid statistics, employee & family reviews, and patient surveys, CareWindow provides consumers with a range of relevant information, beyond just the CMS rating. This makes CareWindow the best option for consumers doing online research to find the best available Skilled Nursing facility, nearest to their location with the desired ratings, reviews, features and amenities offered. CareWindow also offers providers the best opportunity to expand the feedback they receive regarding their facility quality, and to provide valuable information to prospective care consumers.