Skilled Nursing Facility Industry Trends 2020/2021
Learning about the unique business model used to successfully run nursing homes is helpful when it comes to seeing what the future trends in long-term care will be. Most of their annual revenue comes from government sources and is greatly affected by changes made in Medicare and Medicaid payment rates. A majority of facilities have two different entities operating under the same roof — skilled nursing facilities (SNFs) and long-term care.
Before COVID-19, the complex business of the nursing home industry was a challenge to successfully maintain without extreme efficiency. Utilizing excess Medicare payments to counter unrealistic Medicaid payments was proving more and more difficult. Facilities filled fewer beds with lucrative traditional Medicare patients instead filling beds with more and more Medicare managed-care and Medicaid residents.
Now, 80% of senior living executives are stating that less new residents are moving in and more are leaving. So the percentage of elderly in nursing homes is not only lessening, but those who have the funds for private home care are using that option instead of spending private dollars on long-term residential care. Additionally, in the past 30 years, there has been a 15% increase in post-hospital admissions to nursing homes which means more of either temporary residents who get well enough to go home and leave vacancies, or residents who stay and need costly additional care.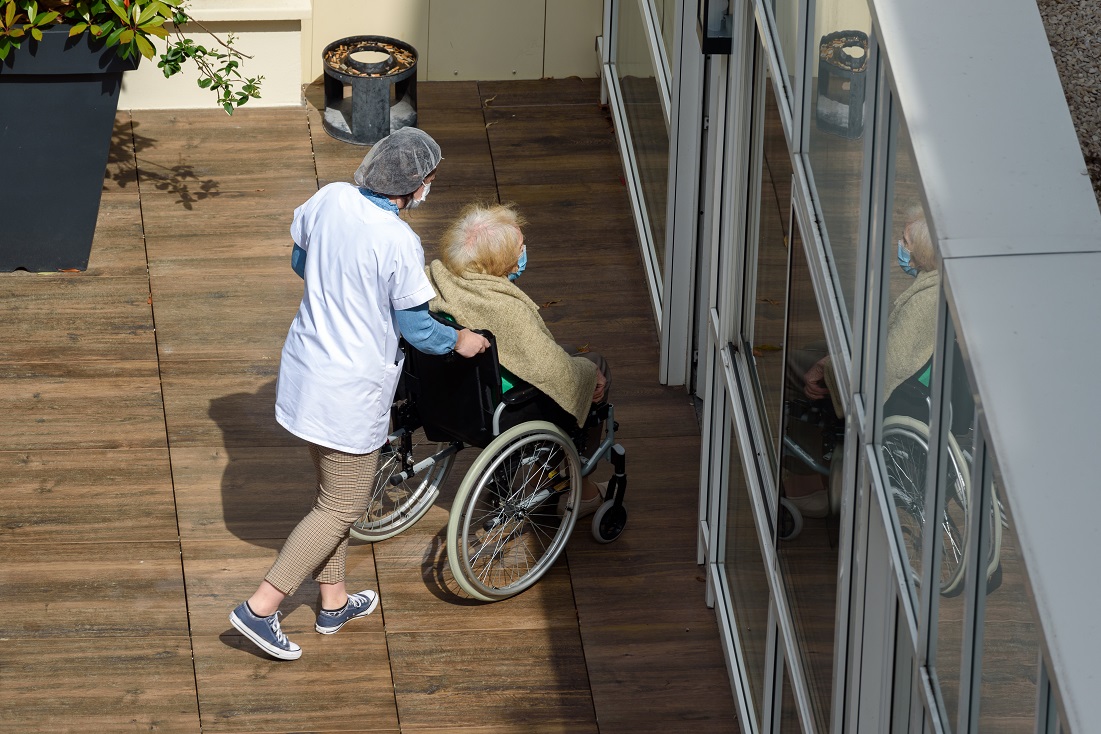 Long Term Care Trends
Right now consumers are making decisions on at least three factors:
Covering the expense during an economically stressful time

Lack of connection with outside family members due to lock-down protocols likely to last well into 2021

.
A recent statistic from NBC News that will make marketing difficult for the nursing home industry is that 39% of COVID-19 deaths have taken place in nursing homes. Unless they can strategically change the way care is being administered and show positive results over time, facilities will struggle to market themselves with this consumer mindset. Surviving with just Medicaid residents is unrealistic, since their rates do not even cover expenses heightened due to the pandemic.
Prior to the coronavirus pandemic, seniors heavily preferred being able to age at home. Now they're extremely motivated to find ways to stay at home. Family and loved ones who are fearful of the current health risks associated with moving them into a facility support this as well. So, selling an unwanted product to hesitant consumers has become much harder.


Industry Trends Moving Forward
Moving forward, operating a successful long-term care facility will mean staying ahead of the industry. Being aware of the latest trends allows your facility to set goals and have a plan in place.
Current and future trends in long-term care will continue to include the need for diligent, cleaning and disinfecting, and respectfully-enforced social distancing to keep residents safe and healthy. Hiring willing and experienced staff — and paying them what their skills are worth — will be a constant challenge in the nursing home industry.
Preserving financial stability will create the need for industry partnerships with other skilled nursing facilities and local businesses. One strategy will be to merge with more successful companies; all parties could benefit and the result would be avoiding significant cutbacks.
Many facilities have reorganized their floor plans to accommodate CDC COVID-19 guidelines for nursing homes — for now, shared rooms have become private rooms. Certain areas have been isolated to deal with infected populations. More staff has been and will continue to be required to handle all of these shifts which increases the financial pressure on facilities.
On top of all the changes made to handle the unexpected COVID-19 crisis, the demographic of the aging population has been changing. They must learn to serve these growing resident populations:
Racial or ethnic minorities

Those who need rehabilitation services

Those who primarily rely on Medicare

Residents who need assistance with daily living activities

Residents diagnosed with dementia and psychiatric conditions
Previously, nursing homes were safe havens where the elderly could spend their final years. But present-day nursing homes are increasingly serving adult patients of varying ages who need short-term rehabilitation needs or more detailed and focused care.
On a brighter note, one of the key long-term care trends that will help the market is the expected boom of aging baby boomers. From now through 2029, roughly 10,000 of them will be in need of some sort of care. Although there's an increased demand for home healthcare, providers will focus on implementing newer technologies and software to enhance the quality of long-term care services being provided in nursing home facilities.


Additional Long-Term Care Statistics
Most people will need some form of healthcare support as they age with daily activities such as bathing and dressing.

Approximately 70% of those currently 65 and over will need long-term care at some point for an average of 3 years.

18% of all seniors will require more than one year in a nursing facility. Paying out-of-pocket for these services is unrealistic for most individuals and their families.
Skilled nursing facilities have always had an obligation to keep their residents safe and healthy. After the pandemic, the expectations will be higher than ever before to minimize infection and exposure while bringing back more social interaction with loved ones and community which is so sorely needed by the aging population.