Nursing Homes With Higher CMS Ratings Have A Lower Risk For COVID-19 Outbreaks
A recent report, published in the CDC publication Morbidity and Mortality Weekly Report suggests that nursing homes with higher quality ratings on the CMS star rating system had a lower risk of having a COVID-19 outbreak than did facilities with lower ratings.
This CMS Nursing Home quality ratings vs COVID-19 outbreaks study included information regarding COVID-19 cases from all CMS-certified nursing home facilities in West Virginia as of June 11, 2020. An outbreak of COVID-19 was defined as the occurrence of 2 or more cases within a 14 day period. The CMS star ratings were assigned based on quality inspections conducted between December 13, 2018 and February 26, 2020.
14 of the 123 nursing homes had a COVID-19 outbreak. The study evaluated a total of 226 cases among residents and 140 cases among staff.
From this study,the compiled statistics showed that a nursing home with a 1 star rating was 7 times more likely to have an outbreak of COVID-19 than a 2 or 3 start facility. When compared to a 4 or 5 star facility, the odds increased to 17 times higher..
CMS Nursing Home Quality Ratings vs COVID-19 Outbreak Statistics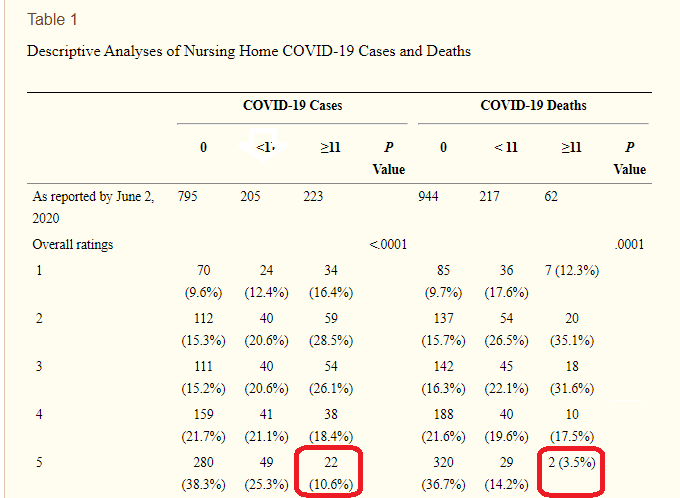 In this recent study which appeared in the US National Library of Medicine National Institutes of Health in June of 2020:
Is There a Link between Nursing Home Reported Quality and COVID-19 Cases? Evidence from California Skilled Nursing Facilities
the study revealed that:
"Nursing homes with 5-star quality ratings showed significantly less COVID-19 cases compared with nursing homes with 1 to 4 star ratings. Larger nursing homes with higher bed occupancy rates were positively associated with COVID-19 cases and deaths. After controlling for the bed occupancy rate at each nursing home, the trend analysis from April 23 to June 2 showed that the increasing rate of COVID-19 related cases was much lower in 5-star nursing homes compared with other nursing homes. Previous studies also confirmed the association between nursing home quality ratings and performance as measured by the improved patient outcome and reduced nursing home costs".
The concluding statement in the study also implied that nursing homes with 5-star CMS quality ratings perfomed the best at reducing or eliminating COVID-19 outbreaks:
"Nursing homes with 5-star ratings were less likely to have COVID-19 cases and deaths after adjusting for nursing home size and patient race proportion".