Nursing Care Plans for Alzheimer's Patients
Nursing care plans for Alzheimer's patients are a necessity for their care and health. When your family has come to the point where you must put one of your loved ones into a nursing home, it is never an easy decision. Care of patients with Alzheimer's is not an easy task for family or nursing home staff, so let's dive in.
Alzheimer's disease is the leading type of dementia among the older generation. This disease is degenerative, progressive, and irreversible. This disorder majorly affects an individual's ability to carry out the simplest forms of daily activity. This form of dementia will continue until all cognitive function is destroyed. As of now, there is no cure for this disease, but some helpful drugs are available on the market that slow symptoms from getting worse.
Nurses play the most significant role when it comes to recognizing dementia in an individual in the hospital setting. Nurses will assess for signs while performing a nursing admission assessment. Once the diagnosis for dementia is made, it is time to promote patient independence and function for as long as possible. Helping to reduce agitation and anxiety, providing socialization, and improving communication will also be worked on while under medical care.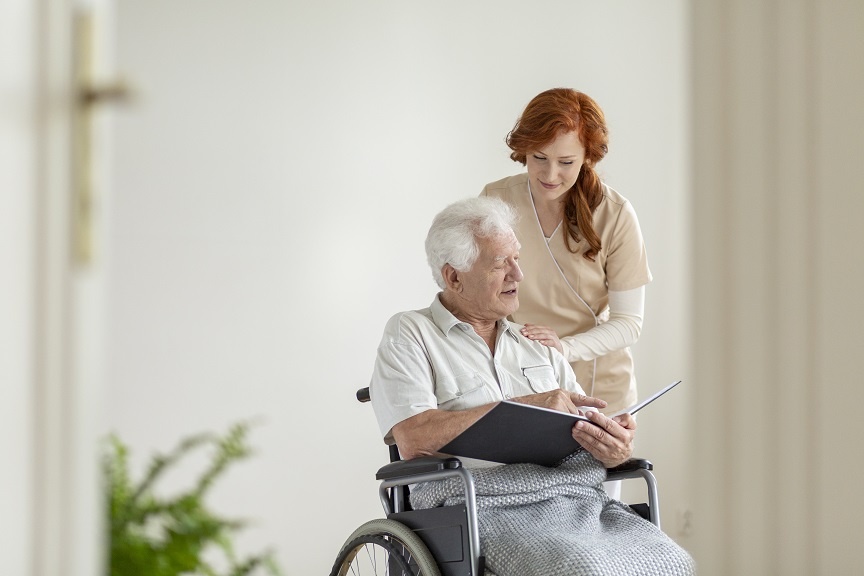 Medical Management for Alzheimer's Disease
Medical management for Alzheimer's disease is essential whether the affected individual resides in a private home or a memory care unit at a skilled nursing facility. Specific interventions are put into place so that the patient remains safe.
If the individual is still residing at home, it is essential to ensure no fall risks. Making home as safe as possible for the individual is high on the list of things that must be done. Other safety precautions may include making sure the doors are locked if the individual has a wandering history.
Alzheimer's Disease Patient
The nursing care plan for the Alzheimer's patient is also dietary and exercise needs. It is essential that even those who are older and have dementia partake in some exercise. We know that exercise helps keep the heart healthy and may even help to slow the cognitive decline. Taking part in some form of exercise may also help to improve the patient's mood.
Nutrition should also be discussed, and diet should include the following:
Foods that are rich in Omega-3 fatty acids should be offered: Omega-3 has been proven to be beneficial to cognitive health

A diet rich in vegetables and fruits

Healthy beverages that include water should be provided at regular intervals

Alzheimer's patients may show less desire for beverages and healthy foods and may lose their appetite; it's beneficial to introduce high-calorie shakes

Caffeine should be avoided because it can interfere with sleep and increase restlessness
Nursing Diagnosis for Alzheimer's Disease
Once the diagnosis and care plan has been put into place, it should be followed as closely as possible for the patient's well-being. Assessments will be done at regular intervals so that the patient receives the best care possible.