Marketing Your Skilled Nursing Home or Assisted Living Facility
Marketing a nursing home is no easy task, and taking on the marketing position takes some thought. You want to sell to the right audience and turn those leads into customers. What has worked in the past with nursing home marketing doesn't work as well today. There are new marketing tools that can be implemented for potential patients who may want to reach out to your facility. Working in nursing home marketing is very different from other businesses. Imagine picking up the phone and calling seniors in the surrounding area? What may work for other companies might not work for this type of business marketing.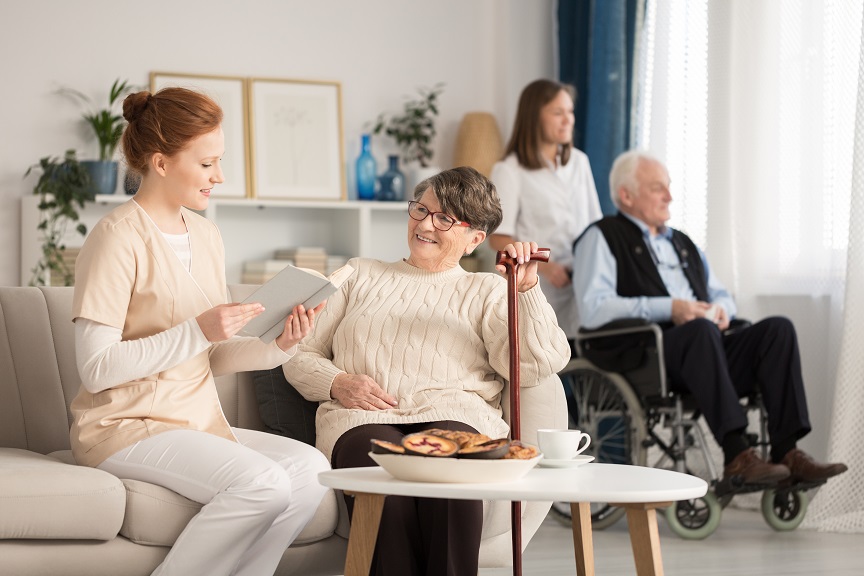 Marketing Ideas for Nursing Homes
Clearly, many actions can be taken when it comes to any type of marketing. Our best recommendation today is to incorporate traditional marketing with inbound marketing online and a bit of advertising to get noticed. Let's review some of the virtual options that are available for all businesses with a little bit of internet.
Marketing Tools for Nursing Homes
Social media is used by everyone, including some seniors and a lot of their family members. It is estimated that 40% of seniors aged 65+ use at least one social networking platform. As age decreases, the number of users increases. Social media helps to open up a virtual friendly door to allow your brand to be marketed and ultimately discovered.
Social media enables your message to be seen by specific audiences. For instance, if you market on Facebook and a senior "likes" your content on your nursing home business page, it will enable your posts to start to trickle into their home feed.
Protip: Create and continuously refresh your editorial calendar so posts and content will be shared and seen regularly.
Websites are everywhere and used for virtually any type of business. It is vital to have a user-friendly and responsive website. Using a website to market your facility doesn't mean that every little detail of the nursing home must be posted. What is essential is that strangers can find your site using search--and once they're there, they should want to take further action.
Some types of "calls to actions" that you speckle across your site could include a "schedule a visit," or ask them to email, call, chat, or video chat with your facility with any real-time questions. You can also offer a premium piece of content to entice folks to sign up for your email newsletter. Your website should be simple to navigate, filled with valuable information, and personal to your business.
Blogging is used for publishing articles centering around a specific topic or theme of subjects that your potential patients and their families may be experiencing. Blogging allows your readers to read content that's more in-depth than what is listed on your core and likely static website pages.
When constructing blog posts, or any public-facing content, you need to keep your audience in mind. What do seniors need, and what are they looking for in a nursing home? What type of care will your readers be looking for? Your blog needs to be personal and answer a need. Family members of potential patients can read your content while searching for the right facility for their loved ones.
Directories and professional websites (such as CareWindow) allow you to add your business information and list the support and amenities you offer. When using our website or other online directories, it is crucial to make sure that everything about your business that someone might be searching for is listed. An online listing may be the first place online that a potential lead may click to, and you want to make sure the information is sufficient and correct.
Marketing Strategies for Nursing Homes- Offline
Of course, there's also a lot of marketing that can be performed offline. With the right complementary mix, offline and online marketing efforts will undoubtedly pay off. Here are a few organizations you may already be a part of, but it's worth it to look and see if you can build a profile.
Nursing Home Association: If there is a nursing home association in the geographical area of your facility, then it is crucial to be listed there. These associations advocate for senior care, among many other services provided, and it's an excellent way to get in front of potential patients and families.

The American Healthcare Association Annual Conference: This conference meets annually, where over 300 professional healthcare providers exchange ideas, the newest healthcare innovations, and work to strategize programs. These conferences revolve around

post-acute-care

and long-term care topics and attract those professionals. Here's a way to identify with fresh marketing ideas and get feedback from knowledgeable experts within the industry.
Marketing Plan for a Skilled Nursing Facility
Marketing strategies are like snowflakes; there will never be two marketing plans for skilled nursing facilities that are the same. Experienced nursing home marketing strategies need to be well-prepared and executed. By approaching both offline and online methods with an open mind and wallet, it makes it possible to get your business out in front of the target audience.