When to Choose In-Home Senior Care
There comes a time when one of your parents may need more help while living at home. It may be time to choose in-home senior care so you may help provide the best care possible, and so your loved one may remain in their home and be safe with their daily activities.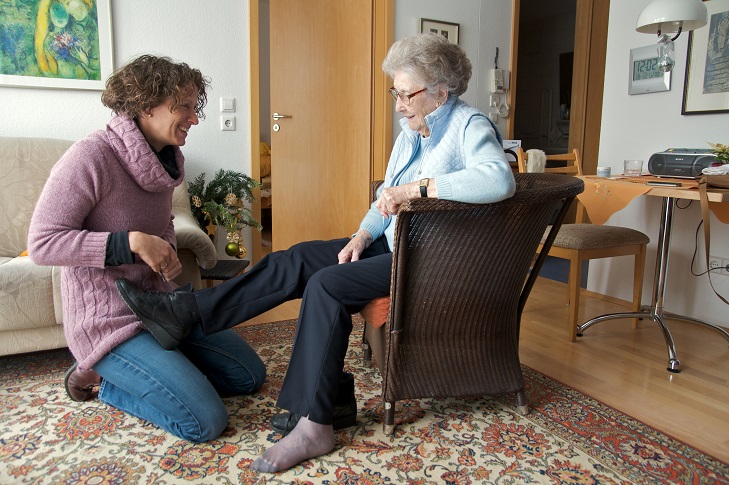 Senior In-Home Help
Everyday chores may become too much for seniors living on their own. Tasks that were once simple can become overwhelming. For example, remembering to take a necessary medication may be forgotten or becomes confusing, so extra help is required. Senior in-home support comes in many forms, including hiring private caregivers for the elderly, a relative stepping up, or employing the help of home health aides. The amount and type of support that is needed will help determine the kind of in-home assistance that is necessary.
Home care for those elderly parents and loved ones who choose to remain in their own homes may not be a new concept. Today, there are several options available for in-home senior care you may want to research before making a decision for your mom or dad.
Senior Care Services
When choosing the right type of in-home senior care that best suits your aging parent, some questions tend to arise. For instance, how much does 24-hour care for the elderly in their home actually cost? How much will Medicaid pay for home health care? You may want to have a few of these concerns answered before the time comes to discuss with your elderly loved one.
Senior Care Agencies
There are many senior care agencies are available to help with senior in-home care. Depending on the type of care that is needed, the agency will provide a health assessment and recommend a care plan. The cost of senior care agencies varies depending on many factors, including the state or municipality where the resident is located, the type of care needed, and the total hours of care they'll require.
If your parent has more demanding medical needs, it may be a good idea to discuss with a home health agency for the placement of a more skilled home health aide who can help with daily tasks. Home health aides are qualified to help with bathing, dressing, making doctor appointments, providing transpiration to doctors' appointments, as well as taking care of some light housekeeping.
For elderly folks who don't need total help with their personal hygiene, but need assistance with housekeeping and other chores, a companion caregiver is an option you may want to look into. Companion caregivers are specially trained humans who come into the home to provide companionship while performing designated tasks. Elderly people spending a lot of time alone may start to feel lonely and potentially become depressed. Hiring a companion caregiver who visits weekly or daily accomplishes more than just housework. Having someone to talk consistently to and perform activities that help get your loved one moving around is an excellent mood lift.
The Cost of In-Home Care
As mentioned earlier, the cost of in-home senior care varies greatly. Medicare-certified home health agencies are available to research online and are subsidized by the US government. Medicaid does pay for in-home care in some form or another in all states. Medicaid is well-known for paying for nursing home care, but it can also help with the cost of in-home care. Before engaging with any elderly home care service, Medicaid eligibility should be checked to see what is and isn't covered in your state.
Private in-home care is available to those who want to direct their own care plan. Again, the cost will vary on many factors. Having the option to have care given within the home allows seniors to get the attention they require, without having to give up the security of home.