Levels of Care: Community Living
For people who need help to remain in a least-restrictive environment, there are several options available. In many instances, care for chronic conditions happens in the patient's home; however, for ailments requiring acute care, admission to a care facility may be warranted. For example, a persistent issue such as COPD may be managed in the home if the patient is stable. Unfortunately, COPD may progress to pneumonia and require a trip to the ER for treatment.
While most patients may not need further care after hospital discharge, seniors can become debilitated from the illness. They need time and encouragement to regain their strength to stabilize their health conditions. The goal is for the patient to return home once they reach maximum improvement.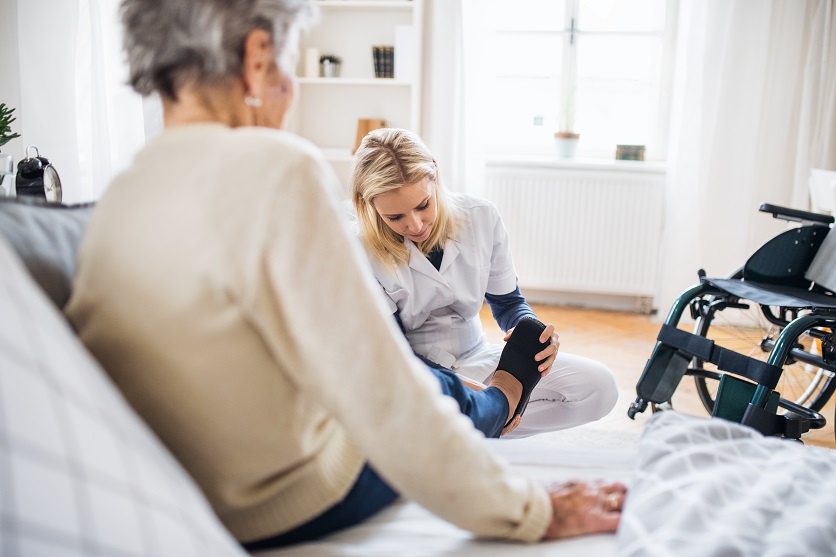 In Home Senior Care
Private pay home care is an option for elderly patients whose resources exceed Medicaid income limits. Many providers offer different levels of services for home-based patients. Some elderly patients need transportation for shopping and appointments, while others need personal care, housekeeping, and meal preparation. A nurse or social worker completes an initial assessment for each new patient to determine their individual needs.
For patients with limited resources, most states offer Home and Community-Based Services Medicaid Waivers, also called 1915(c) Waivers. Waivers allow elderly and disabled persons to live in a variety of settings and receive Medicaid-funded services.
While specifics differ by state and terms of the Waiver, these folks may reside in the following dwellings:
In their home

In the home of a relative or friend

In an adult foster care home

In a residential group home

In an assisted living residence
1915(c) Waivers allow patients to continue living at home or in the community rather than moving into a nursing home. The patient must not need the same level of care provided in a nursing home to receive the Waiver. They will also be at risk of nursing home admission if community services and supports are not in place.
Waivers provide for care services and promote independent living.
Individualized services include:
Personal emergency response systems

Adult daycare

Respite care

Assistance with personal care and hygiene tasks from home health aides

Meal delivery or preparation

Housekeeping
A patient's home may need to be modified to allow for increased safety and accessibility, such as ramps, walk-in showers, grab bars, and widening doorways.
Unlike state Medicaid A plans, Waivers may not be available in all states and may target only specific populations. Waiver programs may have waitlists, whereas Medicaid programs do not. Patients should contact potential providers for payment details and acceptance of Medicaid or Waivers. Agency social workers may be able to assist with the application processes.
Assisted Living
Assisted Living Facilities (ALFs) allow patients to have personal space and autonomy while ensuring their care needs. ALFs have support staff available 24/7 and can respond quickly in the event of a medical emergency or accident.
ALFs offer individualized assistance with tasks like medication administration, health monitoring by nurses, meals, and personal care. ALFs also provide opportunities for socialization, which promotes mental health and overall quality of living.
Many ALFs can assist with transportation to appointments and offer shopping excursions and other liveliness in the senior living community. Every ALF is different, so it is a good idea to ask questions about services, activities, and events. ALFs may accept Medicare A or a Waiver, but many are strictly private-pay. Medicare does not pay for assisted-living arrangements, and most state Medicaid programs don't pay for assisted living facilities. However, there may be some state exceptions.
Currently, the Best Practice Care Model is to encourage people to "age in place," or remain in their homes for as long as possible. Home care, community-based supports and services care, and assisted living are three options for seniors and people with disabilities to maintain independence and avoid a more institutional setting. For those needing nursing home care, there are quality homes throughout the country that you can search for right here on CareWindow.com.
Source: (www.medicaidplanningassistance.org)
Last updated March 2020