Fall Detection Alert Devices Give Seniors Personal Safety And More Freedom
1 Of 3 Older Adults Will Experience A Fall In The Next 12 Months
According to the National Center for Injury Prevention and Control, one out of three adults aged 65 or older will experience at least one fall during the next 12 months. Two thirds of those adults will experience ANOTHER FALL within the following six months. According to the CDC, 1 of 5 falls lead to serious injury like broken bones or a head injury to an elderly person. As falls are the leading source of injury to seniors, it could be time for you to research the latest personal safety devices designed for the health and safety of your loved one(s) over the age of 65, especially if they have any medical conditions that affect their motor skills, coordination or if they are prone to experiencing, dizziness or dis-orientation.
What is Fall Detection?
In the event of a fall, a device can be carried or worn that would be able to detect the fall and then send an instant electronic alert signal. The alert signal usually triggers a call to phone bank center where emergency help can be then be dispatched from.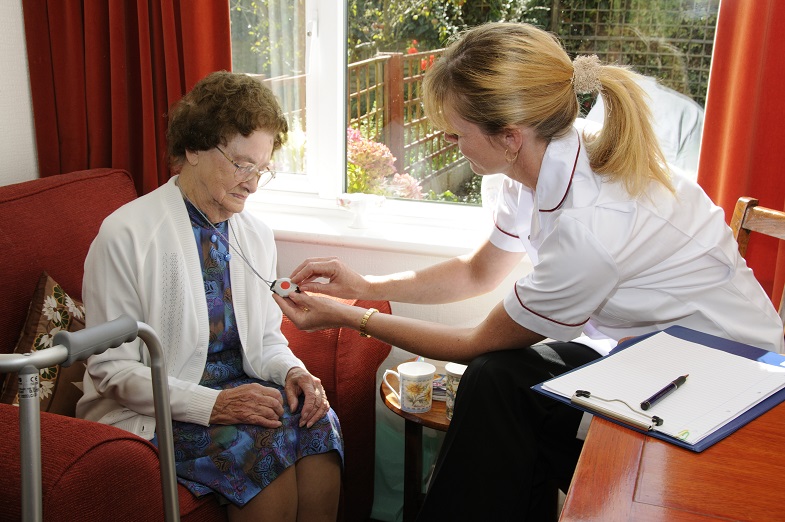 Medical Alert Systems with Fall Detection
There are many different kinds of fall detection devices. The most common is a wearable button that comes with a medical alert system. The button must be pressed manually to send out an emergency alert. When you purchase most medical alert/fall detection systems, you are required to sign up for a paid subscription service with a low monthly fee. While this creates an ongoing expense, the hardware is usually provided at no upfront cost. For elderly or disabled persons living alone, a fall detection system is a must for personal safety, especially if there is no video monitoring equipment setup in the home which would allow a relative or caregiver to check in regularly. In addition to the home, fall detection devices are now being worn by seniors in independent living communities, assisted living facilities and even some skilled nursing facilities.
GPS Fall Detection Devices Work Anywhere
Newer wearable GPS alert devices can now detect a fall automatically without the need for a button. These systems are available at slightly higher monthly rate. Wearable GPS alerts represent a breakthrough in personal safety as they can be worn outside the home or outdoors anywhere in the USA as long as there is cellular phone reception available. (GPS alerts use the cellular phone data network to send the electronic distress signal). Designed for instant hands-free communication, automatic fall detection GPS devices feature location services and a remotely managed response. These new devices give today's active seniors or special needs individuals and their families freedom, safety and security at home or away. Simply put, the low monthly investment in a fall detection sensor device could literally be a life saver.