DME: Durable Medical Equipment
DME is a common need for patients being discharged home from a care facility. Obtaining necessary items for safety and independence doesn't need to be complicated. Here are some tips and information about getting the required equipment for a successful transition home.
How to Get DME
The treating therapists in the facility's rehab department will make recommendations for DME, to be reviewed by the attending physician, who will write an order to obtain needed items. Each facility has a contact person who will work on getting devices for use in your home. This person might be in the rehabilitation department or a nurse case manager. Sometimes the social worker is responsible for getting the necessary items. These are issues to discuss during discharge planning. A medical supply company contracted with Medicare will deliver equipment to the facility, usually one or two days ahead of the scheduled discharge; home delivery may be an option if you have things like shower chairs and commodes. Medicare B benefits will cover much of DME's cost, as long as you have a prescription. For patients with Medicaid, there may be no out-of-pocket cost for the patient or family.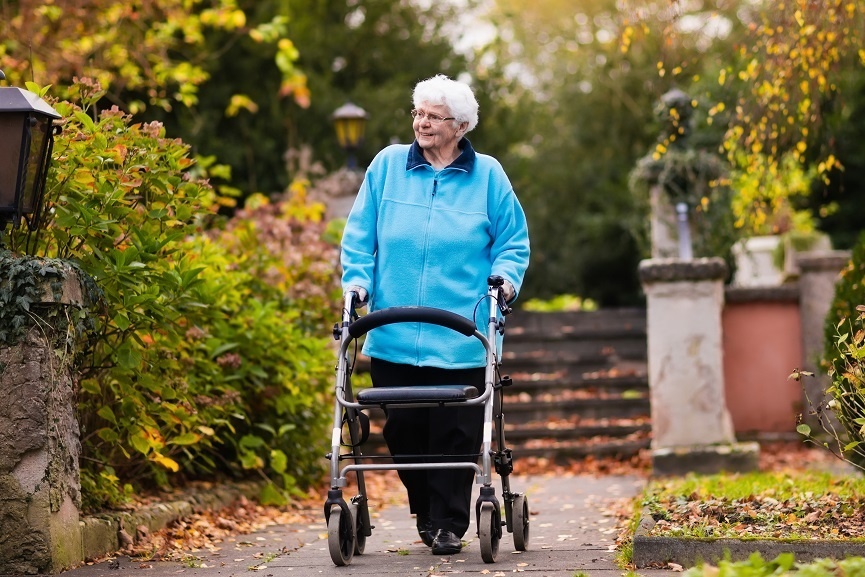 What is DME?
DME is a type of medical equipment that is used more than once. Assistive mobility devices, implements used to promote safety and independence while performing hygiene and grooming tasks, and items needed for medication administration are all DME.
Per CMS, DME must meet these criteria:
Durable (can withstand repeated use)

Used for a medical reason

Not usually useful to someone who isn't sick or injured

Used in your home

Generally has an expected lifetime of at least three years
Mobility
Assistive devices, or ADs, include anything that helps the patient move around in his environment: walkers, wheelchairs, crutches, canes, and lifts. It is crucial to receive training before using any ADs. Deferring to the therapist's professional judgment regarding mobility devices will lessen the risk for accidents and injuries. Rollator walkers are popular because there is a seat with a basket underneath; this walker is unique for its hand brakes. Unfortunately, injuries can occur if the patient cannot control this device; this judgment should be made only by a licensed physical therapist. While its features are attractive, the Rollator is not for everyone.
Medical Interventions
Equipment to prevent further problems and enhance the patient's quality of life is also covered through Medicare B. Patients with medical conditions like heart failure or respiratory problems may require supplemental oxygen or a hospital bed. The doctor may order non-invasive ventilation support, such as a CPAP (Continuous Positive Airway Pressure) machine or a BIPAP (Bilevel Positive Airway Pressure) unit. Other physician-ordered respiratory equipment includes suction and tracheotomy supplies, and nebulizers for respiratory treatments. Tubing, cannulas, and masks are covered with limits.
Wound Care
Items for the treatment and prevention of wounds are covered through insurance, as well. Home delivery of dressings and wound-care supplies is typical once the vendor has the physician's order; shipping is usually pretty quick. Visiting nurses can also place orders for wound-care supplies and make recommendations and arrangements for acquiring pressure-reducing surfaces like air mattresses and cushions. Limiting pressure on wounds and preventing new sores is essential to the patient's comfort and health. If you are concerned about acquiring skin injuries due to limited mobility, speak with your providers. Therapists and nurses are there to help advocate. Debilitated patients require assistance to relieve pressure to bony prominences, and frequent changes in position are vital, even when an air mattress is in use. As an aside, only draw-sheets and disposable underpads (chux) should be placed on an air mattress; soaker pads are thick, quilted, reusable incontinence protectors that will interfere with the pressure-reducing properties of the air mattress.
Orthopedic Devices
Fractures are a common diagnosis leading to admission to a care facility. Medicare will mostly cover the cost of devices used to help recover from orthopedic injuries and surgeries after returning home. In addition to mobility devices, the patient might need a continuous passive motion machine to maintain mobility in an affected joint. Patients who have had a hip replacement will probably need a raised toilet seat to prevent the new hip joint's dislocation. Your doctor might order other devices to increase your independence and mobility: traction units, slings, braces, splints, and trapezes.
Diabetic Care
While people with a diabetes history are probably aware of methods acquiring necessary supplies, a newly diagnosed patient may not know. Medicare B will pay for diabetic testing and treatment supplies, including glucometers and testing strips, lancets, and special shoes. Typically a glucometer, which measures blood glucose levels, is inexpensive or even free. The necessary testing strips are very costly, and insurance will probably cover only a limited supply.
What Else?
Home IV infusion equipment is covered as DME, as are feeding tube supplies. Hygiene items that help the patient achieve and maintain independence include commodes and shower chairs or benches. Many devices exist that help with dressing, grooming, toilet hygiene, and eating, among others. Occupational therapists will teach you how to safely use these items and recommend the physician, who will write an order. Prosthetics and orthotics are generally covered, in addition to positioning devices such as cushions, bolsters, braces, and splints, and ostomy appliances, and urological devices such as catheters.
Things to Keep in Mind
Always check with the DME vendor to confirm your out-of-pocket cost. No one likes surprise bills! If you decide to shop online, some purchases may not be covered. Contacting CMS to inquire about coverage may save you some money; consider making that call if the DME provider can neither provide the device nor bill it out to Medicare.
Hand-me-down equipment is convenient and less costly, but it could also create problems. Many rehab therapists will conduct a home visit and advise you about your equipment's safety and appropriateness. Older devices may be damaged or recalled making them a potential hazard.
A safe transition will help you and your family feel good about returning home to get back to your routine and life.